If your refrigerator isn't cooling your food, you risk spoiled groceries and a headache. Trust our service professionals at Mr. Appliance of Anchorage to provide fast and effective refrigerator repair services in Anchorage, AK. Our residential refrigerator repair services ensure your refrigerator gets back to cooling and working perfectly. A refrigerator's thermally insulated compartments help keep your food fresh and cold. When these compartments aren't working, count on our service professionals to offer expert repair services. Contact us today to request an estimate on refrigerator services.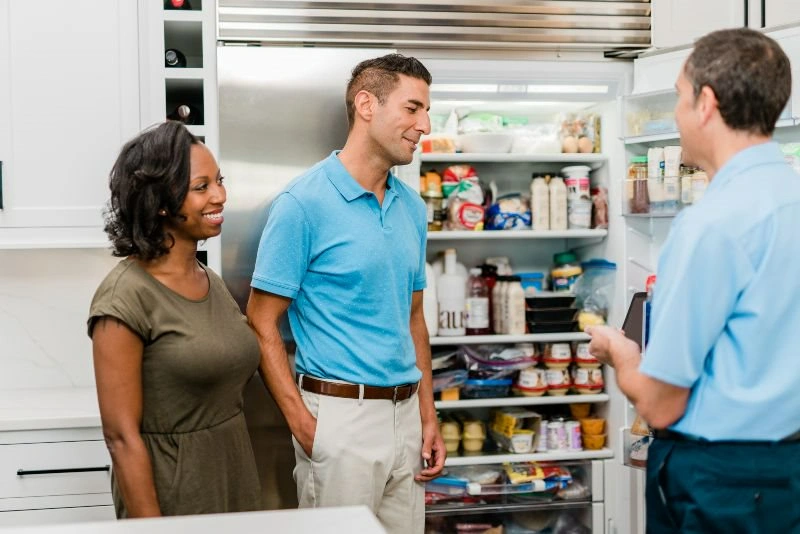 Servicing All Types of Refrigerators 
All refrigerators have the same job of keeping your food fresh, but the different types of refrigerators look different from each other. We repair any type of refrigerator, including:
Freezerless refrigerators
Bottom freezer refrigerators 
Top freezer refrigerators 
Compact refrigerators
Side-by-side refrigerators 
French door refrigerators 
Counter depth or built-in refrigerators 
What Refrigerator Brands Do You Service?
Mr. Appliance of Anchorage can service any brand and type of refrigerator. Our service professionals are trained to understand every component of your fridge. We will offer an estimate for our services before proceeding with your refrigerator repair. The most common refrigerator brands we service include the following:
Bosch 
Fisher & Paykel 
Viking 
GE
Frigidaire
Kenmore
Whirlpool
Thermador 
KitchenAid 
Electrolux 
Maytag 
We Offer Refrigerator Replacement Parts
We advise against trying to replace refrigerator parts yourself. Our service professionals are extensively trained to handle electricity and refrigerators. We can replace any refrigerator part, including the following:
Solenoids
Water Filters 
Thermostats 
Fans and Evaporators
Ice Maker Components 
Cold Controls
Replacement Lightbulbs 
Defrost Heaters 
Valves
Door Seals and Switches 
Bins, Drawers, and Shelves 
Condensers and Compressors
Most Common Refrigerator Problems
Your refrigerator may show subtle signs it needs repair services. The most common refrigerator issues include the following:
Temperature Problems – If your refrigerator isn't cooling, you could have a ventilation issue, damaged gaskets, or a broken temperature gauge.
Dirty Condenser Coils – When your refrigerator's condenser coils are unclean, they work too hard to expel heal from inside your fridge.
Condenser Fan Motor – The condenser fan motor pulls air to cool down your condenser coils, so it will sometimes overheat when it is damaged.
Blocked Vents – A refrigerator relies on open ventilation to keep everything in it cool and fresh.
Control Panels – When one or both of your circuit boards are damaged, they cannot adequately manage the temperature control boards.
Do Refrigerators Use Freon?
If your refrigerator was manufactured after 2020, it does not contain any Freon. Freon was previously used to cool refrigerators. The synthetic gas is harmful to the environment and can be toxic to people, so it is not discontinued in the production of refrigerators. Most modern refrigerators use hydrofluorocarbons. We can inspect your refrigerator to determine if it contains Freon.
Refrigerator Repairs vs Replacement
We do our best to offer refrigerator repairs before determining whether a refrigerator replacement is the best choice. Most refrigerators last about 14 years, but it is important to keep them maintained. If your refrigerator needs constant repairs, it's typically best to purchase a new refrigerator. Our team will help determine if you need a refrigerator repair or replacement.
Providing Detailed Refrigerator Inspections
While many refrigerator issues are quick and easy to diagnose, other problems need detailed inspections. Our service professionals can quickly diagnose and repair problems like a leaking water line or broken seal. If you have a broken evaporator or a valve issue, we must carefully inspect your refrigerator to locate the problem. Once we inspect and find the issue, we will offer an effective repair solution.
Choosing Mr. Appliance of Anchorage
Mr. Appliance of Anchorage ensures fast and efficient appliance repair services. We've diagnosed, repaired, and replaced countless refrigerators. Our team never charges overtime fees for our services. We provide honest pricing and high-quality customer service. Check out our testimonial page to see what others are saying about our services.
Contact Mr. Appliance of Anchorage
Mr. Appliance of Anchorage provides appliance services for Anchorage, Eagle River, and Chugiak, AK residents. We stand by our work with a guarantee that the job will get done the right way. We provide special offers for many of our appliance services. If your refrigerator isn't working correctly, reach out to us to schedule refrigerator repair services.