Ice machines and ice makers have given homeowners the freedom to leave behind the struggles and spills of ice trays in their freezers. You might have a fridge with a built-in ice machine in your freezer or a standalone unit. Whichever option you have, you may have already noticed an ice machine can sometimes have functional issues every once in a while. If you live in Anchorage, Eagle River, or Chugiak, AK and have an ice maker that doesn't work correctly, you can count on Mr. Appliance of Anchorage's ice machine repair specialists to help you resolve your appliance problems. We'll gladly provide more information about our quick and conclusive ice machine repair services and then schedule an appointment at your home.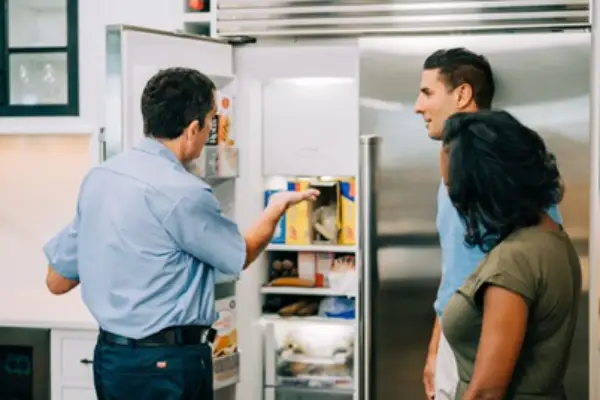 Repair Experience With All Ice Maker Types
With the wide array of ice machines available to homeowners today, you might question if our ice machine service and repair technicians can complete service on your specific unit. Fortunately, you don't need to worry about having a model or brand we can't handle. Our expert appliance technicians have years of experience performing repairs on various ice machine types. Mr. Appliance of Anchorage offers exceptional ice machine repair solutions for the following options:
Freezer ice makers
Undercounter ice machines
Portable ice makers
Combination water dispenser and ice machine
Freestanding or built-in ice machines
The Most Common Reasons You Need Ice Machine Repairs
Many things can go wrong that affect your ice machine's reliable functionality. Your model might produce undersized ice cubes or not work at all. It can take a high level of appliance expertise to identify a problem's source in an ice machine. Luckily, Mr. Appliance of Anchorage's technicians have ample training and expertise in ice machine repairs. We're always happy to address any issue with a careful diagnosis and then provide a detailed estimate covering what your ice machine repair will cost. Below are some common issues residential ice machines encounter daily:
The freezer isn't cold enough – If your freezer doesn't maintain a temperature between zero and five degrees Fahrenheit, the ice machine in it cannot create ice cubes.
Problems with the freezer door switch – If the door switch breaks on your freezer, it may assume the door is always open. If this is the case with your freezer, your ice machine will not dispense ice.
Insufficient water supply – A defective inlet valve will cut off the necessary water supply to your ice machine. This issue prevents water from getting to your ice maker to produce ice cubes.
Low water pressure – If the water pressure for your ice maker is below 20 psi, it may not get enough water to work correctly.
Faulty ice level control board – When the ice tray is full in your ice machine, its ice level control board switches it off. If your control board breaks, the ice maker will no longer produce new ice cubes.
Clogged water filter – A clogged water filter will also block your ice maker's water supply. When water can't flow through an ice machine's water filter, it doesn't receive enough water to create full-size cubes.
Defective mold thermostat – The mold thermostat signals your ice maker when ice cubes are done freezing and ready to eject into your ice tray. If this component fails, it brings your automatic ice cube production cycle to a halt.
Dispenses misshapen cubes – Any issue restricting the water supply to your ice machine may cause it to produce oddly shaped or undersized cubes.
Water leaking inside the freezer – A leaky water inlet valve can create water puddles inside your freezer, often causing larger ice cubes too.
Not making enough ice – If the environment around your ice machine isn't cold enough, it may take longer for it to produce ice cubes.
Not making any ice – Warm water influxes from dishwashers pumping back into your cold-water line and other causes can halt your ice maker's ice cube production.
Mr. Appliance of Anchorage Repairs All Ice Maker Brands
Mr. Appliance of Anchorage has performed ice machine repair services in the Anchorage, Eagle River, and Chugiak, AK areas for a long time. During our time of service, we have diagnosed and repaired virtually every ice maker make, model, and brand. No matter which appliance brand you have creating ice in your home, our ice machine repair specialists know how to find the specific problem and resolve it. We've listed some ice maker brands we often repair at households:
Kenmore
KitchenAid
Samsung
Frigidaire
Whirlpool
GE
Performing Repairs With the Most Reliable Parts
While making ice doesn't seem like a complicated process, your ice maker produces ice on demand using an interconnected system of parts that work automatically for this appliance to function correctly. So, when you have a functional issue with your ice machine, repairing it often requires replacing one or more parts. At Mr. Appliance of Anchorage's technicians perform all repairs using only the highest-quality parts. All our residential ice machine repairs also come with a one-year parts and labor warranty offer. Some ice machine parts that may require replacement to restore your ice machine include the following:
Valves
Motors
Condensers
Control boards
Solenoids
Tubing
Timers
Thermostats
Storage bins and baggers
Water filtration systems
Schedule a Residential Ice Machine Repair Appointment
When your ice maker doesn't work correctly or stops working altogether, you need an appliance professional to identify the problem and its specific cause. After diagnosing your appliance's issue, they should present you with a reliable and conclusive solution. That's exactly what our technicians offer. When working with Mr. Appliance of Anchorage, you can count on us to arrive at your home on schedule and resolve your appliance problem correctly the first time. The Neighborly Done Right Promise® backs all our residential ice machine repair services, and we offer the most reliable ice machine repair services around. Schedule an ice machine repair appointment today to get quick and effective appliance solutions as quickly as possible.