The job of your freezer is to keep food frozen and fresh for long periods of time. Mr. Appliance of Anchorage offers professional freezer repair services in Anchorage, AK. When your freezer isn't working properly, you can trust us for reliable repairs. Most people use a freezer to conserve food and help save money. We recommend setting your freezer at zero degrees Fahrenheit or lower to accomplish this task. Our service professionals will find your freezer problem and offer an effective solution. Contact us to request residential freezer repair services today.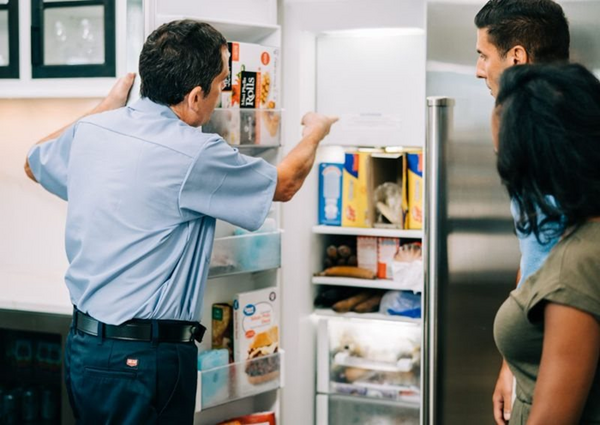 We Service All Freezer Brands
Mr. Appliance of Anchorage repairs all types and all brands of freezers. The most common freezer brands we repair include the following:
LG 
Revco
Whirlpool
GE
Kelvinator 
KitchenAid
Samsung 
What Are Common Freezer Issues?
The freezer in your home uses multiple components to keep your food frozen. The most common freezer repair issues include the following:
Freezer won't work – When the freezer does not turn on, it's important to check the outlet. If it still does not turn on, we will determine the issue.
Freezer makes unusual noises – Banging sounds coming from your freezer sometimes indicate engine or compressor problems.
Inconsistent freezer temperature – When the temperature in your freezer won't stay consistent, it typically has dust or debris in it.
Freezer will not cool – Your freezer won't cool if someone leaves the door open too long or you have a problem with loose door seals.
Freezer is too cold – When you see frosting on your frozen food or frost around your pipes, we will determine the root of the issue.
Damaged freezer door seals – A damaged freezer door seal won't allow you to adequately close the freezer door.
Using Vaseline to Seal Freezer Doors
Petroleum jelly is an effective way to soften a dry gasket. It creates a unique seal around the freezer door. Vaseline will not repair tears, cracks, or other damage. It simply provides a temporary seal until the gasket can be replaced.
Is My Freezer Door Seal Damaged?
A damaged freezer door seal is one of the most common issues with freezers. You can place a piece of paper between the freezer and gasket to test the door seal. Shut the door and pull out the paper. If the paper falls out, you need a freezer seal replacement.
We Replace Freezer Parts
Our service professionals offer high-quality freezer replacement parts. We advise against trying to replace parts yourself if you don't have the proper training or equipment. We replace freezer parts, including: 
Thermostats 
Fans
Compressors
Door switches
Evaporators
Evaporator coils 
Evaporator fans 
Relays
Door seals
Defrosters
Defrost timers and heaters 
Motors
Overload protectors 
Seals and gaskets 
Defrost control timers 
Freezer Care Maintenance Tips
It's important to get freezer maintenance services to ensure your freezer is in optimal health. We offer freezer care maintenance tips, including the following:
Always check for any debris, dust, or food buildup.
Change your water filter every six months if you have an ice maker
Check and clean the freezer coils once a year.
Contact our service professionals if you notice any issues.
Why Choose Mr. Appliance of Anchorage?
Mr. Appliance of Anchorage understands your freezer needs to work properly to keep your food frozen. Our service professionals offer appliance services in Chugiak, Eagle River, and Anchorage, AK. Our work is always backed by a guarantee. We offer upfront pricing without overtime fees. You can read our positive testimonials to see what customers say about our work. 
Contact Mr. Appliance of Anchorage
Mr. Appliance of Anchorage helps save you time and money with our professional freezer door services. We do our best to offer freezer repairs before recommending a freezer replacement. We invite you to check out our ongoing special offers. Our service professionals always put your needs first. We work fast and efficiently to locate your appliance problems and provide an honest estimate of the cost of freezer repairs. We will thoroughly explain the problems to help you make an informed decision. Contact us today to request an estimate on freezer repair services.