Many people depend on their dishwashers for clear, clean dishes. When your dishwasher isn't working, trust our service professionals. Mr. Appliance of Anchorage offers professional dishwasher repair services for homeowners in Anchorage, AK. We know a dishwasher is a convenient way to wash dishes, so it's a hassle when it isn't working properly. We can repair any problem with your dishwasher, from a draining issue to a leak. Contact us today to get an estimate on our dishwasher repair services.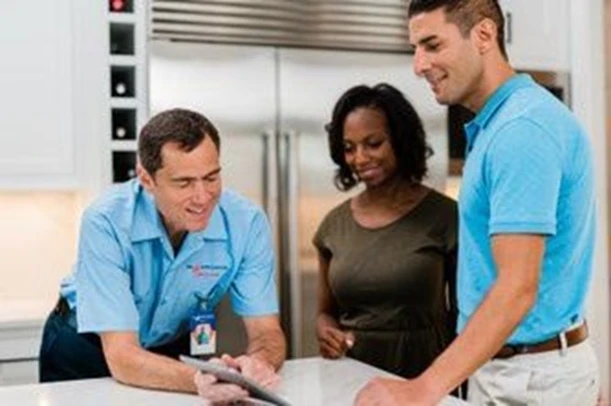 Signs of Dishwasher Problems
Your dishwasher cleans your dishes by using many working parts. We can repair any dishwasher problem quickly and effectively. The most common dishwasher issues include the following:
Dishwasher leaks – If you use the wrong kind of soap or excessive dishwashing soap, your dishwasher may leak. Leaks can also be caused by a leaking pump or motor assembly, damaged door gaskets, or problems with your spray arm assemblies or tub-to-motor gaskets.
Cloudy glassware – Cloudy glassware indicates a hard water problem. We recommend rinsing your dishes before putting them in the dishwasher or purchasing a water softener.
Dishes aren't clean – There is an issue when your dishes don't come out of the dishwasher pristine. We will check your wash impeller, pump, spray armholes, and heating element.
Wash cycles run too long – Your dishwasher shouldn't take hours to finish a cycle. You may have a problem with your thermostat or timer if your wash cycles are too long.
Dishwasher hums but won't run – It isn't a good sign if your dishwasher hums and shuts off. Your motor may be damaged and need a replacement.
Water will not drain – Your water should completely drain after a cycle. When the water does not drain, you may have an issue with your drain impeller, drain solenoid, or drain line.
Dishwasher won't fill with water – The dishwasher needs water to clean properly. You may have a defective water inlet solenoid, a stuck overflow flat switch, or a malfunctioning timer.
We Service All Dishwasher Brands 
Mr. Appliance of Anchorage proudly services all brands and types of dishwashers. The most common dishwasher brands that we repair include the following:
Maytag
Bosch
KitchenAid
GE
Whirlpool
Replacement Parts for Your Dishwasher
You may be surprised at the number of parts that your dishwasher uses to clean your dishes. Our team can replace any of your dishwasher parts, including the following:
Timers 
Motors
Valves
Solenoids
Heating Elements 
Pump assemblies 
Gaskets
Thermostats 
Float switches 
Wash and drain impellers 
Professional Dishwasher Installation
It's important to leave dishwasher installation to our professionals to ensure it is correctly installed. Our experienced service professionals will inspect every part of your dishwasher for proper installation. We can help you understand how to use your new dishwasher.
Should I Repair or Replace My Dishwasher?
We will determine if you need a dishwasher repair or replacement. Most dishwashers last about nine years. We sometimes recommend an upgrade to a more energy-efficient model. If your dishwasher faces constant repairs, it is best to purchase a new one.
Tips for Dishwasher Maintenance
When your dishwasher is properly maintained, it will have a longer life. We recommend pouring one cup of vinegar into your dish cycle every few months to decrease hard water buildup. Other tips for
dishwasher maintenance include the following:
Clean your filters and replace damaged filters.
Avoid overloading the dishwasher.
Scrape away leftover food on plates.
Wipe the door seal with a rag and white vinegar to clean food residue.
Why Choose Mr. Appliance of Anchorage?
Mr. Appliance of Anchorage ensures your dishes come out of the dishwasher sparkly and shiny. We provide in-home estimates and always offer honest pricing. You won't ever get charged overtime fees. We also back our work with a guarantee. We have a testimonial page to check out what our customers say about our exemplary appliance services.
Contact Mr. Appliance of Anchorage
Mr. Appliance of Anchorage offers comprehensive appliance services for Eagle River, Anchorage, and Chugiak, AK. We will quickly locate the problem with your dishwasher and offer an effective solution. We do our best to offer dishwasher repairs before recommending a new dishwasher. We always have special offers on our appliance services. Contact us today to request an estimate on our costs of dishwasher repair services.