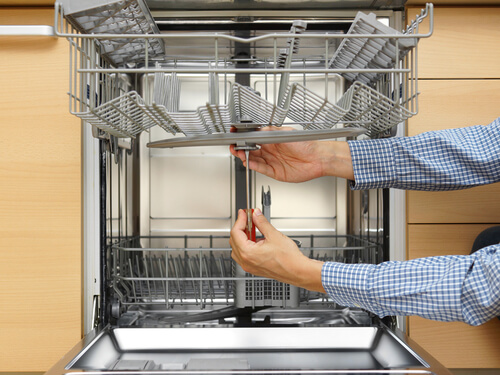 If you run your dishwasher every day or close to it, you may not realize how much wear and tear it goes through. Even the newer models need a break here and there and to be properly maintained. If your dishwasher isn't working properly, it may require the help of a professional. However, it is important to educate yourself on the most common signs that your dishwasher is breaking down and needs to be repaired before more damage occurs.
Common Yucaipa Dishwasher Problems
While it would be nice if we all had the time to wash and dry our dishes by hand, it is hardly the case. Running your dishwasher saves you time and provides you with a sense of convenience. If your dishwasher isn't cleaning your dishes properly and requires extra work to get them sufficiently clean, it can be a major inconvenience to your everyday routine. There are a number of common symptoms to look out for which indicate the need to hire a professional appliance repair specialist.
The most common problems you may experience with your dishwasher include:
Dishwasher won't latch
Dishwasher is noisy when running
Dishwasher leaks when running
Dishwasher won't dry dishes
Dishwasher isn't dispensing detergent
Dishwasher isn't draining or filling
Regularly Maintaining Your Dishwasher
There are also steps you can take to prevent problems in the future, such as making sure you load the dishes correctly each time you run it. Every few months, you should take the time to clean out your dishwasher. If your dishwasher racks are old and rusty, you should consider replacing them. You may not know what to look for to check for small leaks, which is why investing in preventative maintenance is worthwhile.
Contact Mr. Appliance of Redlands-Yucaipa today if your dishwasher has stopped working and needs to be repaired.