A washing machine can be one of life's greatest luxuries, especially if you have one inside your own house. But they get used so often that they need maintenance more often than your average household appliance. Mr. Appliance of Northern Ft. Wayne can help! We offer skilled appliance repair in Fort Wayne.
Contact us for appliance repair in Fort Wayne today!
The larger the household is, the more likely it is that your washer will wear out much sooner than you expect. The average life expectancy of a washing machine is about 8 to 11 years. If your machine is experiencing issues, or you think it might need a tune-up because of its age, give our appliance repair team in Fort Wayne a call.
Signs Your Washer Needs Repair
Aside from your washer not starting at all, there are a few other signs you should look out for when considering whether your machine needs repair.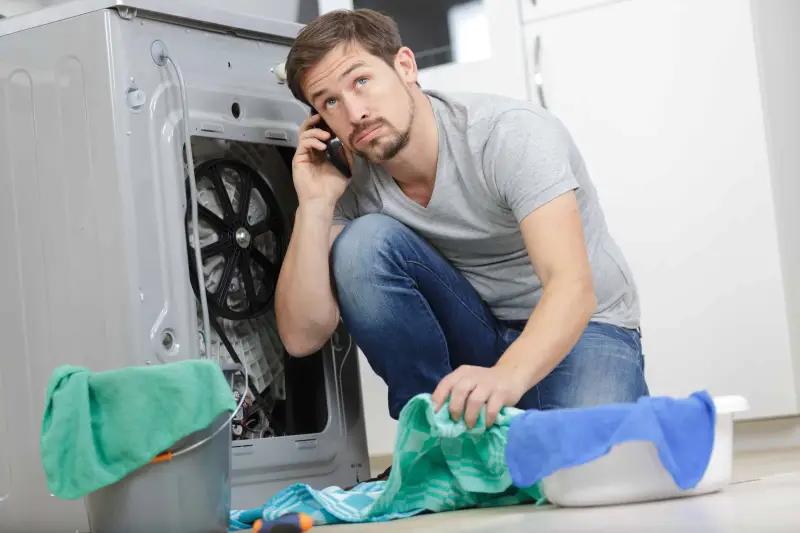 Water isn't filling the drum: If you notice the machine isn't filling with water when you start your laundry, you have an issue with your washer.
The drum isn't turning: Half the point of a washing machine is a device that agitates your clothes in soapy water to get rid of dirt and stains. If the drum isn't turning, your wash cycle becomes much less effective.
The washer is making unusual noises: Most people recognize the sounds their washer makes during a normal cycle. If you start hearing unusual thumping, screeching, or groaning noises from your machine, this isn't normal.
Water isn't draining from the drum: This can be one of the most frustrating issues because fixing the machine first requires draining the water. If the drum isn't draining, check to see if clothes are blocking the water pump. If they're not, your machine could have an issue with its drain hose or the water pump.
If you notice any of the signs above, call our Fort Wayne washer repair experts as soon as possible! Call our techs especially if you suspect the problem to be an electrical one. Only licensed professionals should handle electrical work!
Call our Fort Wayne appliance repair experts at Mr. Appliance of Northern Ft. Wayne today to schedule an appointment!
Frequently Asked Questions
How can I fix my washing machine?
The first step to fixing your washing machine is to determine what's wrong with it. You need to diagnose your washing machine. Some symptoms of what could be wrong include strange noises, leaks, inability to start, inability to agitate, the timer will not work, or water issues. Some parts are easier to replace, but some repairs require technical and electrical know-how. If you're not sure if you can do it without damaging your appliance or hurting yourself, please call a professional from Mr. Appliance.
How much does washing machine repair cost?
Repairing your washing machine can cost anywhere from $51 to $350, depending on what part needs to be fixed. For example, if a mechanism is broken deep in the machine, it will take longer to take the washing machine apart and put it back together again. Additionally, it may cost more if the machine is particularly old and a replacement part is hard to find.
How long can you expect a washing machine to last?
Most washing machines last around 10 years. However, the life expectancy of a washing machine depends on how well it's taken care of and how often it's used.
Should you repair or replace your washer?
Buying a brand-new machine can be a real hassle, but the necessity of taking such a drastic step depends a lot on several factors:
How old is your machine?
How expensive will the repair be?
What is your budget for a new machine?
If your machine is ten years or older, consider replacing it. The expense of repairing the old machine might be greater than the cost of buying a new one! These days, washers are more affordable than ever, and you have several models to choose from. New washing machines can cost anywhere from $250 to $2,050, depending on the size and features you want. Some stores will have seasonal specials, like Maytag May, which will make buying a new machine more affordable. But, if your washer only requires a simple fix, we can help! Our technicians can give you a flat rate on how much it will cost to repair the machine, and you won't have to worry about buying a new one just yet. We don't charge by the hour, so you know exactly how much we will charge to repair your machine before we even complete the job!
Trust Your Local Mr. Appliance with Your Home Appliance Repair
Don't get stuck with a broken washer for longer than you need to. Give our team in Fort Wayne a call to set up a visit that works for your schedule, morning or afternoon. Mr. Appliance of Northern Ft. Wayne provides high-quality workmanship and excellent customer service. Check out our reviews on Google for more information about our efficient and friendly team!
Call Mr. Appliance of Northern Ft. Wayne or fill out our online form to request an appointment today!