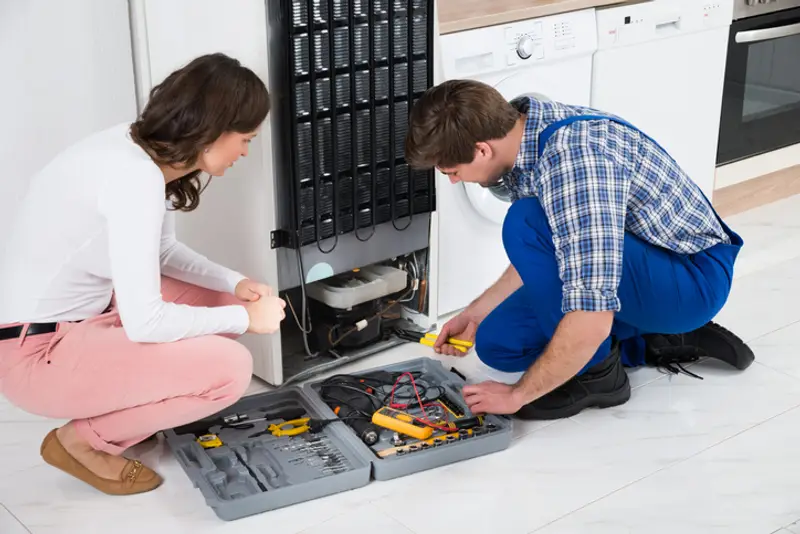 When the weather gets warm, it means it's time to start your spring cleaning. But when you're done perfecting your landscape and re-staining the deck, don't forget to give your appliances some TLC! Make sure your washer can handle the upcoming increase in laundry loads. Prep the refrigerator for all of the snacks and drinks you'll be keeping around.
A few small things on the to-do list can prevent frustrating problems from popping up at inconvenient times.
Refrigerator Maintenance
Clean the Refrigerator Coils
Slide the refrigerator away from the wall.
Unplug the refrigerator.
Locate the condenser coils (either on the back or the bottom).
Remove the grill if necessary.
If your fridge has a condenser pan, empty any water from it (if you don't have a pan, you get to skip a step!).
Using a condenser coil brush and a vacuum, carefully clean away any buildup from the coils.
Put the fridge back and plug it in – you're good to go.
Inspect the Refrigerator
This is a great time to clean out the fridge and swap the water filter if you have one (this should be done every six months). While you're at it, check the seals and gaskets for a proper seal. Use warm soapy water and a clean cloth to wipe them down if you're concerned about cool air escaping.
Oven, Stove, and Range Maintenance
While you're giving your kitchen a good scrubbing, don't forget to take extra good care of the oven.
Some of our top tips for oven, stove, and range maintenance include:
Check inside the oven for spills and splatters. Unplug the oven and remove anything you find to avoid it continually re-burning every time you cook.
As you clean, remember that you should not remove the oven's knobs, as this becomes an electrical hazard.
Inspect your gas line for cracks or damage and replace it if it looks worn at all.
Test the temperature to ensure that the heating element is working correctly.
Inspect the burners for any spots that glow brighter than the rest or for debris built up. If you can't clean it, be sure to replace the burner.
Clean the Exhaust Hood and Filter
It's pretty simple in most cases to de-grease your range hood filters with water, dish soap, and baking soda. Slide the filters or pop them out of the hood and soak them in very hot water with a mixture of baking soda and dish soap. After they've soaked in the solution, scrub them with a non-abrasive brush, rinse, and dry them before putting them back into place.
Dishwasher Maintenance
It doesn't take long for a broken dishwasher to become a major hassle. To help avoid finding yourself in that situation, keep the dishwasher in good working condition. One way to do so is by cleaning the filter, which is often forgotten. Most dishwasher filters will be at the bottom – your maintenance manual or a quick online search should clarify if you can't find it on your brand.
You can also take the same inspection and cleaning approach for the seals on your dishwasher that you would with your refrigerator.
Laundry Room Appliance Care
Washing Machine Maintenance
Despite regular exposure to soapy water, washers need regular cleaning.
Keep laundry day on track by:
Removing soap scum from the detergent door.
Adding vinegar and baking soda into a wash cycle on the hottest and largest setting*.
Inspecting the water hose for cracks.
*Top load machines should use a mixture of 4 cups vinegar to 1 cup baking soda, while front-load machines should use 2 cups vinegar to ½ cup baking soda. Once the cycle is done, wipe out any buildup left in the machine.
Dryer Maintenance
Take care of lint buildup in the vent. Not only does this help to prevent fires, but it also keeps your dryer working better for longer. Unplug the dryer. If it's gas, turn off the gas supply before pulling the dryer away from the wall and disconnecting the clamp from the hose. Using a vacuum hose, clean out as much as you can in the hole and then reattach the clamp to the hose.
Clean the lint trap. While you're removing the lint, take the trap out and give it a scrub with soapy water to ensure it's clear to capture debris properly.
If you have questions as you're handling spring maintenance for your appliances, don't hesitate to reach out! We're happy to take some things off of your to-do list.