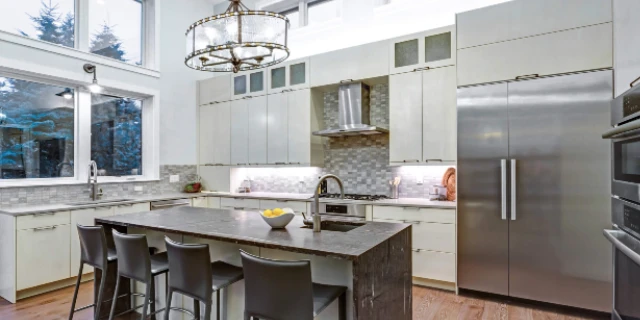 The days of quickly running out and buying a standard white refrigerator are long gone. Nowadays, refrigerators come in a number of colors, shapes, sizes, and finishes — plus dozens of functionality options. While it's always better to have more options than fewer, so many choices can easily overwhelm a person. If you're on the hunt for a refrigerator, below are a few questions to ask yourself before clicking "purchase."
1. How much space do I have to work with?
We've seen it happen before — people purchase refrigerators only to find that it's too small or too big once it's delivered. Don't be fooled into thinking that "standard size" refrigerators will fit into your space. You need to measure to ensure that you get the right size refrigerator.
2. What function do I want my fridge to serve?
While the obvious answer is "keep things cold," it's important to remember that refrigerators do a lot more than that these days. Refrigerators now come with many unique features like built-in televisions and speakers, and wifi capabilities. You should also consider whether or not you want an energy-efficient model.
3. What style do I want?
There are several different styles of refrigerators out there. Take into consideration what kind of space you have when it comes to choosing the style of refrigerator. The most common options are:
Bottom freezer
Side-by-side
French door
Mini or compact
4. How much do I want to spend?
While it's easy to say you want the largest, most high-tech fridge on the market, that may not be realistic for your budget. Before you hit the stores, have a budget in mind for what you can spend on each appliance (not just appliances as a whole). Then write down a list of features you want going from most to least important.
Give Mr. Appliance of Huntington a call today!