A dishwasher is an appliance that has made modern life more comfortable, convenient, and clean. When your dishwasher stops working as it should, it can throw off your daily routine. A dishwasher is a complex appliance with many working parts, from electrical components to plumbing connections. So, when it's time to fix your dishwasher, you need the help of a team that specializes in repairing appliances. Mr. Appliance of Spencer offers dishwasher repairs in Spencer, Iowa, and the surrounding areas. Learn more about our dishwasher repair services.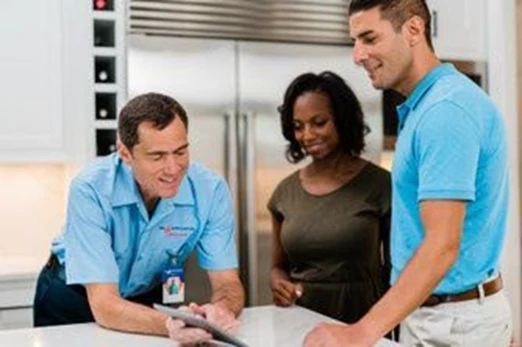 What's Wrong With Your Dishwasher?
Many different things can go wrong with a dishwasher, from the water not draining to the dishes failing to get completely clean. No matter the problem, Mr. Appliance of Spencer can fix it. When we service your dishwasher, we don't just repair the problem. We help you understand the cause of it. Our teams will diagnose the exact source of the damage or breakdown. That way, we can help you take measures to prevent similar issues in the future. Some of the most common dishwasher problems include the following:
Dishes Don't Get Clean – When you run your dishwasher, and your dishes are still dirty, you know you have a problem. This issue typically involves a blocked sprayer, a burned-out heating element, a faulty pump assembly, or a worn-out wash impeller.
Cloudy Glass – Putting glassware in a dishwasher shouldn't make the glass cloudy or leave spots on it. This issue usually means that you have hard minerals in your water. This issue can often be alleviated by rinsing dishes before putting them in the dishwasher. If that doesn't solve the problem, you may need to install a water softener.
Wash Cycle Takes Too Long – If you notice that your dishwasher takes longer than expected to finish a complete cycle, there may be a problem with your thermostat or timer.
Your Dishwasher Hums and Shuts Down – When your dishwasher's motor seizes up, the dishwasher will often make a humming noise and turn off. We can fix this by replacing the motor.
Water Is Left in Your Dishwasher – Water should be standing in your dishwasher at the end of its cycle. If so, you may be dealing with a broken drain solenoid, a clogged drain line, or a faulty drain impeller.
Dishwasher Doesn't Fill With Water – Your dishwasher may fail to produce enough water if certain components are defective, such as a valve, water inlet solenoid, timer, or overflow float switch.
Fixing All Dishwasher Brands
You might be wondering if Mr. Appliance of Spencer can work on your type of dishwasher. Our technicians are trained in repairing dishwashers of all major brands, makes, and models. Whether you have an upscale brand or an older model, you can rely on our team to know precisely how to handle it. Some of the most common brand names we work with include the following:
GE
Bosch
Maytag
Whirlpool
KitchenAid
We Only Use the Best Replacement Parts
Dishwashers have an internal network of parts that work together to make the appliance operate smoothly. When any part of your dishwasher breaks, the entire unit may stop working correctly. Often, the solution to the problem is simply replacing the broken part. When you need to replace a part of your dishwasher, it's essential to use a high-quality part that is guaranteed. At Mr. Appliance of Spencer, all our parts and workmanship are guaranteed. Some of the high-quality parts that we can replace on your dishwasher include the following:
Valves
Timers
Motors
Gaskets
Solenoids
Thermostats
Float switches
Heating Elements
Pump assemblies
Wash and drain impellers
How to Maintain Your Dishwasher
Is it worth repairing a dishwasher when you could prevent problems from happening in the first place? As with all home appliances, the best way to avoid repairs is by following a preventive maintenance routine. You can do a few simple things to keep your dishwasher in peak working condition. The most important is to clean it regularly. To do this, pour a cup of vinegar into your dishwasher and run it with no dishes inside. The vinegar will remove hard mineral buildup and clean the inside of your dishwasher automatically. Some of the other maintenance tips we give to homeowners include the following:
Routinely clean filters and, if they appear to be damaged, replace them
Remove leftover food from plates before putting them in the dishwasher
Don't overload your dishwasher
If you notice food residue inside your dishwasher, wipe it out with a dishrag soaked in white vinegar
Schedule a Dishwasher Repair Appointment Now!
If you're wondering who repairs dishwashers in Spencer, Milford, and Lake Park you've come to the right place. Mr. Appliance of Spencer is the area's premier team for affordable dishwasher repairs. We always offer upfront pricing, delivered by friendly, uniform service professionals. Schedule a dishwasher repair appointment today!