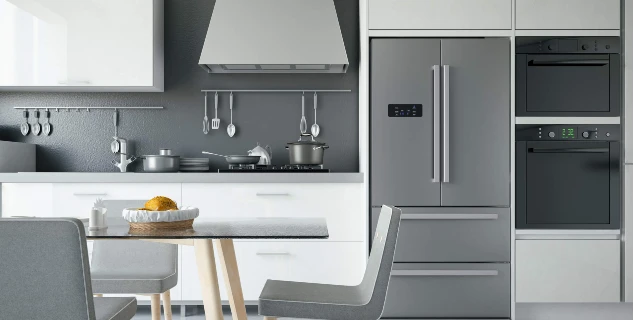 Since 1922 (the year the first commercially successful oven was released), there has been no shortage of ways to improve the look and functionality of your kitchen. As one of the most popular rooms in a house, the kitchen is what homeowners put most of their budget towards.
And it looks like this year is no different. From even smarter appliances to new colors and finishes, this is everything you can look forward to in 2019.
Color Galore
For years, three colors have reigned supreme in the kitchen — black, white, and stainless steel (a.k.a silver). But it looks like that's all going to change this year. From red and blue to "millennial pink" appliances big and small are coming in a wider range of color than ever before.
Connectivity with Personal Assistants
When they were first introduced on the market, people had their skepticisms, but it looks like voice-activated personal assistants aren't going anywhere soon! A few years ago, we had smart appliances, capable of tracking food and creating grocery lists. Now, we can actually speak commands to a refrigerator or oven. Who else is looking forward to presetting their oven while sitting on the couch?
Retro Appliances
As they say — history repeats itself. Vintage refrigerators, ovens, and microwaves are making a big comeback. They're also available in a variety of colors if you're looking for a real standout piece.
Refrigerator Zones
Your standard refrigerator has two crisper drawers — and that's about it. Nowadays, refrigerator manufacturers are taking the idea of "zones" to another level. With drawers within drawers and temperature-controlled shelves, you better believe each and every item you have is being stored perfectly.
Call Mr. Appliance of Huntington WV today!