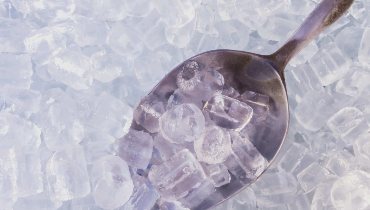 Whether you're hosting a party in the summer or winter, no get together ever really got going once the ice ran out. So if you're tired of asking friends to "grab a few bags of ice" on their way over, it may be time to get an outdoor ice machine.
While these machines are designed to handle the elements better than your average kitchen appliance, there are still a few precautions you should take if you want your unit to work for years.
Do: Be aware of the temperature outside.
Outdoor ice machines are designed to handle the elements, but they're not indestructible. If you're experiencing a heat wave, don't push your machine to make as much ice as it possibly can, since its gears can overheat. On the flip side, running your machine in freezing and subzero temperatures is also dangerous.
Don't: Leave it outside unprotected.
Throw a tarp over your machine in the summer and winter months to protect it from extreme weather.
Do: Keep Water Lines Short
Running a 30-foot cord across your yard is not only unsightly, it's dangerous and ineffective. Especially on a hot day, water traveling through a long pipe will heat up, forcing your ice machine to work harder than it needs to.
Don't: Let water accumulate on it.
Whether it's from rain or melting snow, don't let water sit on or under the unit for any long period of time. Even a few spilled drinks can damage its internal parts.
Don't: Drain your ice maker wherever you want.
You wouldn't let rainwater pool on your lawn, so don't drain your ice maker there either. Just like with rainwater runoff, drain your unit away from your house and on solid ground.
Call Mr. Appliance of Huntington West Virginia today!