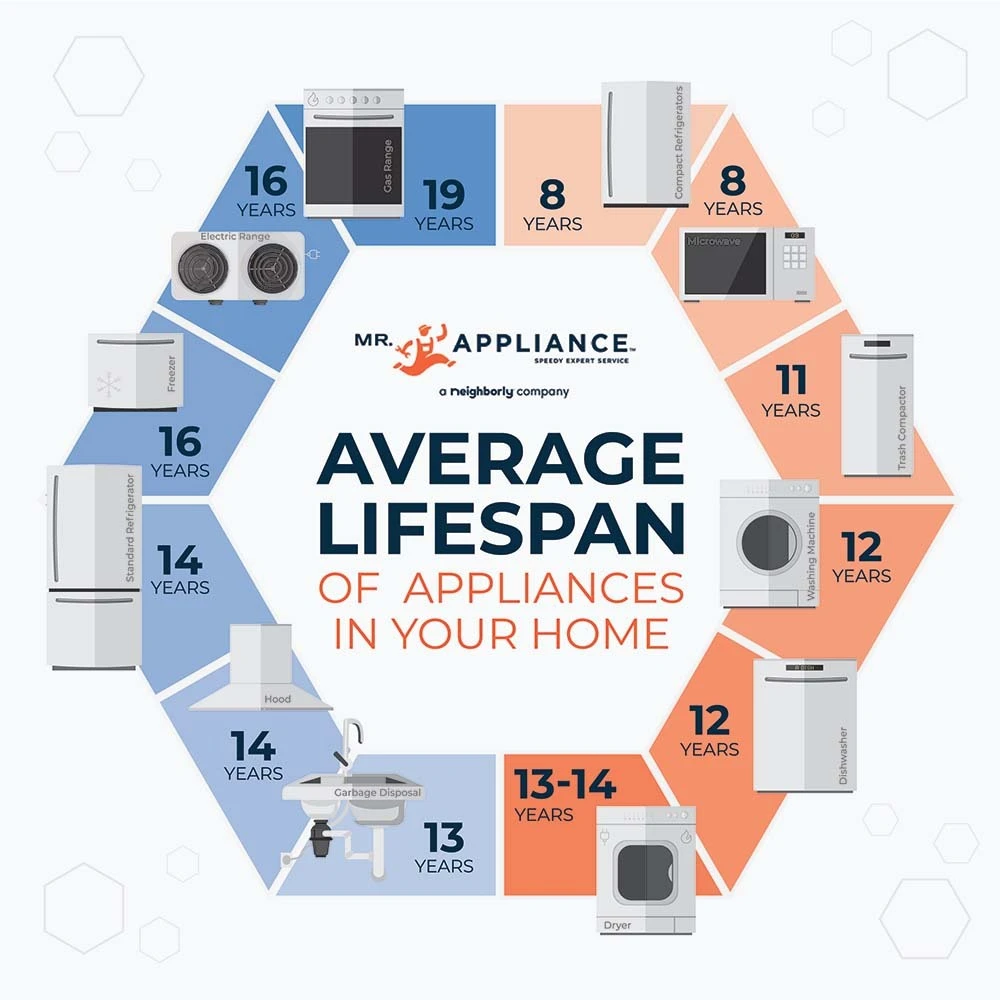 Do you have an appliance on the fritz? Few things are as frustrating than a faulty, inefficient, or just plain broken-down appliance like a fridge, freezer, or washing machine. Fortunately, Mr. Appliance of Casper is here to help. Whatever the problem is you're experiencing, our local appliance repair technician will work expeditiously to diagnose the problem and deliver the necessary replacement part, maintenance service, or repair.
Signs Your Appliances Need Some TLC
Household appliances are essential to our daily lives in the modern world. Without them, weekly tasks become a lot more challenging as the sink builds up with dirty dishes and the laundry piles get higher than ever and all the food spoils. It becomes more than a nuisance, it can turn into an emergency. You can rely on our Casper appliance repair company to help restore the functionality of your favorite appliances in almost no time at all.
Some of the signs a common home appliance is in need of repair may include:
Foul odors
Dryers not fully drying dishes or clothing
Refrigerator temperatures are inconsistent
Frost builds up in the freezer
The gas stove will not light
The garbage disposal is clogged and won't turn on
The dishwasher leaks
The icemaker won't work
The dryer vent is clogged
Units refuse to power on
The washing machine or dishwasher won't drain
Is it Worth it to Fix My Appliance?
You may wonder if repairing your appliance(s) is even worth the time and cost. At Mr. Appliance, we believe almost any appliance is worth trying to save, and you'd be surprised to learn how much better many appliances run after simple diagnostic work and repairs.
We work on just about any brand, make, and model of appliance, including all of the following types of home appliances:
Ice maker
Refrigerator
Freezer
Dishwasher
Range
Stove
Oven
Outdoor kitchen
Vent hood
Washing machine
Laundry dryer
Garbage disposal
Of course, the choice of whether you want to proceed with repair or replacement is ultimately yours, but our technicians will be happy to inspect your appliance to uncover what's wrong with it for a simple service call fee. If it's worth it to replace, we will apply the service fee to the cost of the final repair. Either way, you'll be equipped with the information you'll need to make a final decision about whether you want to repair it or replace it in the end.
Expect More: Learn Firsthand About the Mr. Appliance of Casper Difference
When you come to Mr. Appliance of Casper, you turn to an honest and upfront appliance repair company free of hidden fees. We offer flexible, convenient appointment times and dispatch a team of certified, background-checked repair technicians who offer industry-leading warranties on parts and workmanship. When your household appliance lets you down, Mr. Appliance of Casper will be there to help lift your mood with our quick response times and efficient appliance repairs.
Do you need appliance repairs in Casper? Request help from the experts – call us to get started.