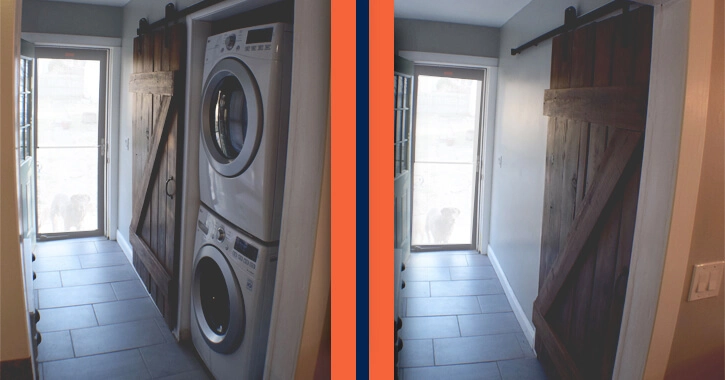 The washer and dryer may be two of your most treasured appliances, but that doesn't mean you want to stare at them all day. Unfortunately, not every home or apartment is lucky enough to have a dedicated laundry room. Avoid airing out your dirty laundry for all to see with these ways to hide a washer and dryer.
Places to Hide Laundry Room Appliances
Every living space is unique. Some layouts don't accommodate an expansive laundry space, which is especially true of homes and apartments that were built decades ago. However, that doesn't mean the washer and dryer have to sit in the middle of the living room. Here are some clever, out-of-the-way places to hide the washer and dryer:
Under the stairs: This is a great way to utilize this otherwise wasted space. In some cases, it's as simple as sliding your appliances into the open space or cupboard under the stairs. Other times, you may need to hire a remodeler to carve a niche out of the wall to make space for the washer and dryer.
In a closet or pantry: If you have a hall closet you rarely use, or you think you can clear out a side of the pantry without difficulty, convert either space into a laundry station. If there's room, you can even install cabinets above the washer and dryer for custom storage. Depending on the dimensions, you may need to stack the units, which is perfectly acceptable. Close the door, and you'll effectively hide the appliances from sight.
In an unused corner: Whether it's a low spot under a window or a place where you can stack the units, a previously unused corner could make the perfect new home for your laundry appliances.
Keep in mind that anytime you relocate the washer and dryer, you must install water hookups, electrical wiring, and vent pipes. This may be costly, depending on the location you choose and your home's existing infrastructure.
Methods of Disguising Laundry Room Appliances
Once you have selected a home for your washer and dryer, you need an effective strategy for blending them into the décor. Try these methods:
Build cabinetry around the appliances: Cabinets can completely hide your washer and dryer while providing a countertop surface above to set laundry baskets and fold clothing. The doors can be whatever style you want, from traditional swinging doors to space-saving bifold doors to stylish sliding barn doors. This method may require a custom remodeling job, which could be both costly and time-consuming.
Install a new closet door: If you choose to tuck your washer and dryer away in a closet, consider rethinking the door. A sliding barn door or bifold door is effective at hiding the appliances while adding to the visual appeal of the room.
Put up curtains: If you choose an unused corner or under the stairs for your washer and dryer, you can keep things simple with a curtain rod and decorative fabric. You can easily change out the curtain with the seasons or when you redo your décor. To complete the look, consider installing a counter above the appliances, a much cheaper alternative than building custom cabinetry. You can also put in full-length curtains to create the illusion that a window lies behind them.
Contact Mr. Appliance for Maintenance
Mr. Appliance offers services to help keep your laundry room appliances in top shape. From washing machine repair to dryer maintenance, we have you covered. To enjoy upfront pricing and service on your schedule, please contact Mr. Appliance® today.